When I first started this blog I had ordered an elliptical machine from amazon and talked a little about it, it's been awhile since I have mentioned it so I just wanted to throw it out there that the machine is still holding strong and has a couple hundred miles logged on it now, and all from my little legs.
Here is the elliptical back in the spare bedroom of our old apartment, now it has it's own space in my studio or as we call it at home, Casey's room. Monday-Friday I try my hardest to wake up at 5:45 sometimes this requires help from my husband, as in kicking me out of the bed and sometimes I just turn off the alarm and log another 30 minutes of sleep, sometimes sleep is more important to me. When I don't turn off the alarm and I get up and get on the elliptical I go for about 25 minutes sometimes a bit more and sometimes a bit less. I have noticed recently that this cardio in the mornings isn't enough for me, my body isn't as strong as it once was, granted I am getting older, sssshhh that is a secret. I have been trying to add 20 minutes of additional exercise in the evenings after work. I have been alternating between yoga and now adding in some strength for my upper body and abs. My arms used to have a lot more tone to them and I have noticed they are well not what they used to be. I am blessed with an incredible leg gene, lucky for me so I don't have to do more than the elliptical to keep my legs in good shape and yoga is an all over toning and stretching workout. I have always loved yoga but when I noticed my arms and abs are not as strong as I would like I decided to add to the yoga routines by alternating with strength training.
I found a couple sites that I love, since I hate gyms and refuse to join one. Gyms are intimidating to me, well not the gym it's being surrounded by equipment, all those machines being touched by so many other sweaty bodies and the thing that drives me most crazy about those machines in the gym is every time you want to use one you have to get on the machine only to realize you have to get back off and adjust it to your requirements. I guess I just don't want to share, that's why I have my own elliptical, yoga mat, and free weights, the perfect home gym for me. Back to the sites I like...for my evening workouts I turn to youtube, because using pictures and magazine articles are not enough, I want someone to tell me each move I'm going to do next and someone else do to the counting for me, that way I can concentrate on the moves and positions and make sure I'm using my muscles and body properly. I like the
http://www.yogajournal.com/video/
for my yoga workouts, there are a lot of videos that range from 5 minutes to 45 minutes and all levels of yogis.
I have been thinking of subscribing to the magazine, but would like a free copy to review before adding another magazine subscription to my mailbox, hahaha, the mailman has a hard enough life already.
I also love
http://www.fitsugar.com/fitness-video
there are so many videos from 1 minute to show you how to do a particular moves to full length workouts, everything from yoga, pilates, cardio, and strength moves. They even have victoria secret model workouts where they got the VS trainers to do a little video for us normal people hahaha. One of their most recent that I have not tried yet are a couple classes with Jennifer Aniston's yogi Mandy Ingber, this is definitely on my to do list.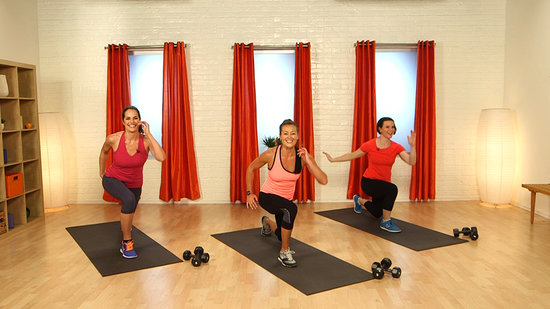 So if you are looking for a workout, look no further than the internet and youtube, there are lots of great free resources out there to help you try new things and change up your current humdrum routine. Get googling!